Royboy Note: From time to time you can find features on the site from my good friends at Gears And Gals Magazine. Go here to see the review I did of Gears and Gals when I started subscribing.
---
In the Summer of 1959 at the Kansas City Drag Strip, a young eight year old boy eyes a bright red 1939 Chevy staging against its competitor.The snarling beast inches forward trying to unleash its wrath as the driver Bob Worley fights her back. The signal is given, the clutch releases and the red monster roars, breaking free from its confine! The slicks dig into the track! The front tires are sent into the air and are gaining altitude as the young boy intently stares on. With no desire of letting up, the red Chevy keeps digging in until she's resting on her back bumper and light is shining under her rear slicks!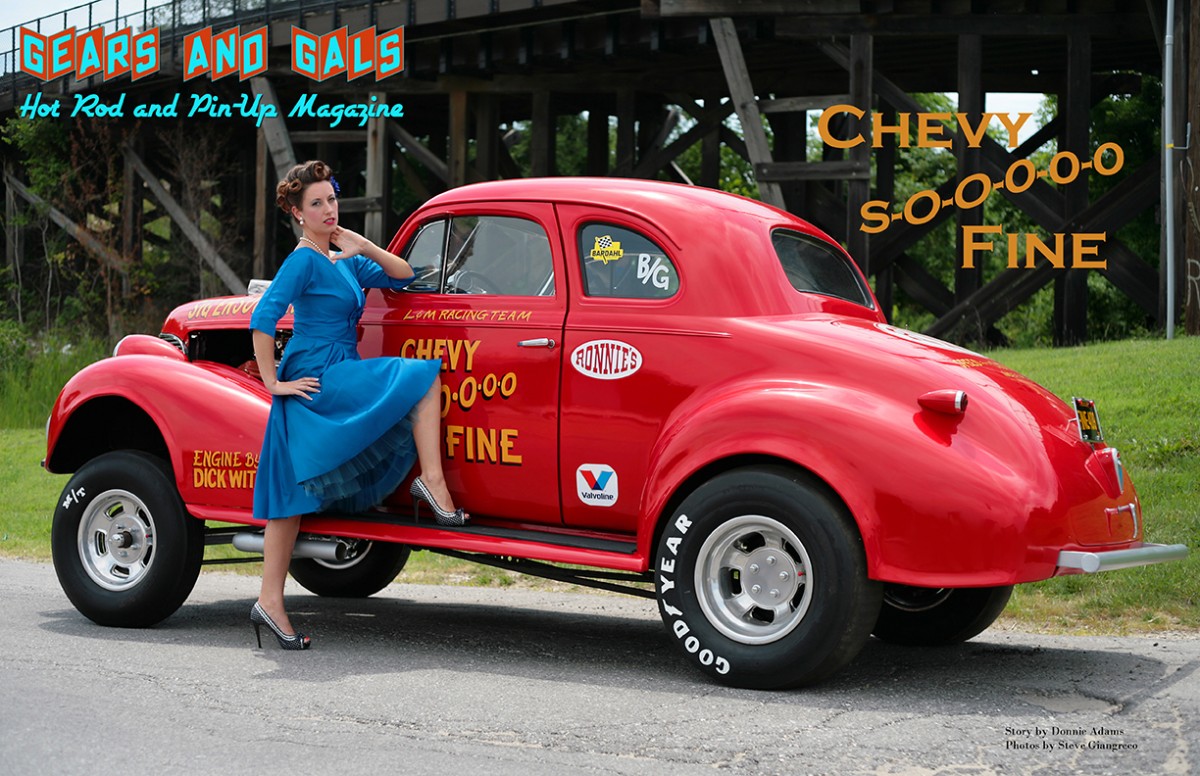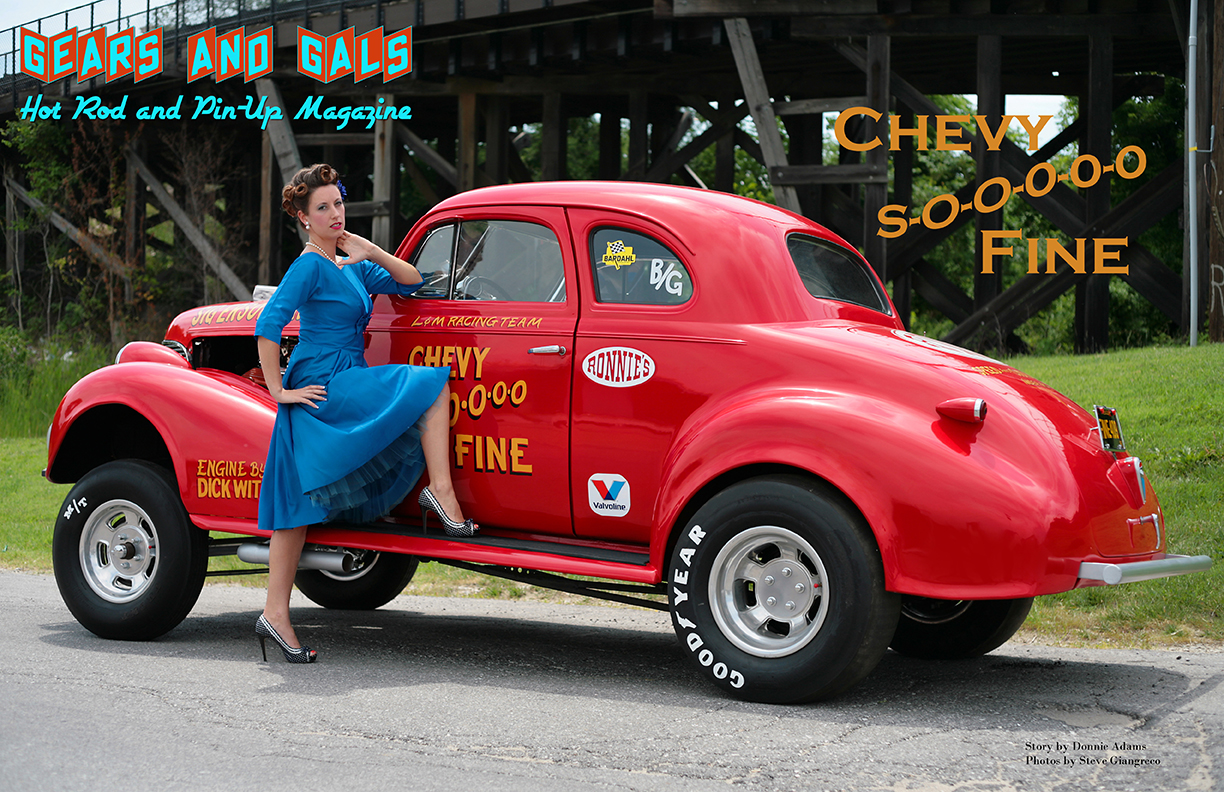 That incredible bumper stand made a huge impact on that young boy watching that day. That little boys name was Gary Potter. That red monster of a drag car was Chevy So-o-o-o-o Fine. Smiling, an eight year old Gary told himself, "I'm gonna have that car."
Well life went on as it will and young Gary became a man. After Vietnam he came home and still that red '39 Chevy weighed on his mind. So, he went in search of it. What a horrible feeling it had to be when he found his childhood idol out in the middle of Kansas, rusted and belly up in a ditch. She had been wrecked, rolled, picked over and left for dead. Nothing was left to even give a glimmer of ever rebuilding her. The thought of cloning "Chevy So-o-o-o-o Fine" was always there, but there weren't any photos to be found of it, and Gary said if he couldn't do it absolutely right, he wouldn't do it at all.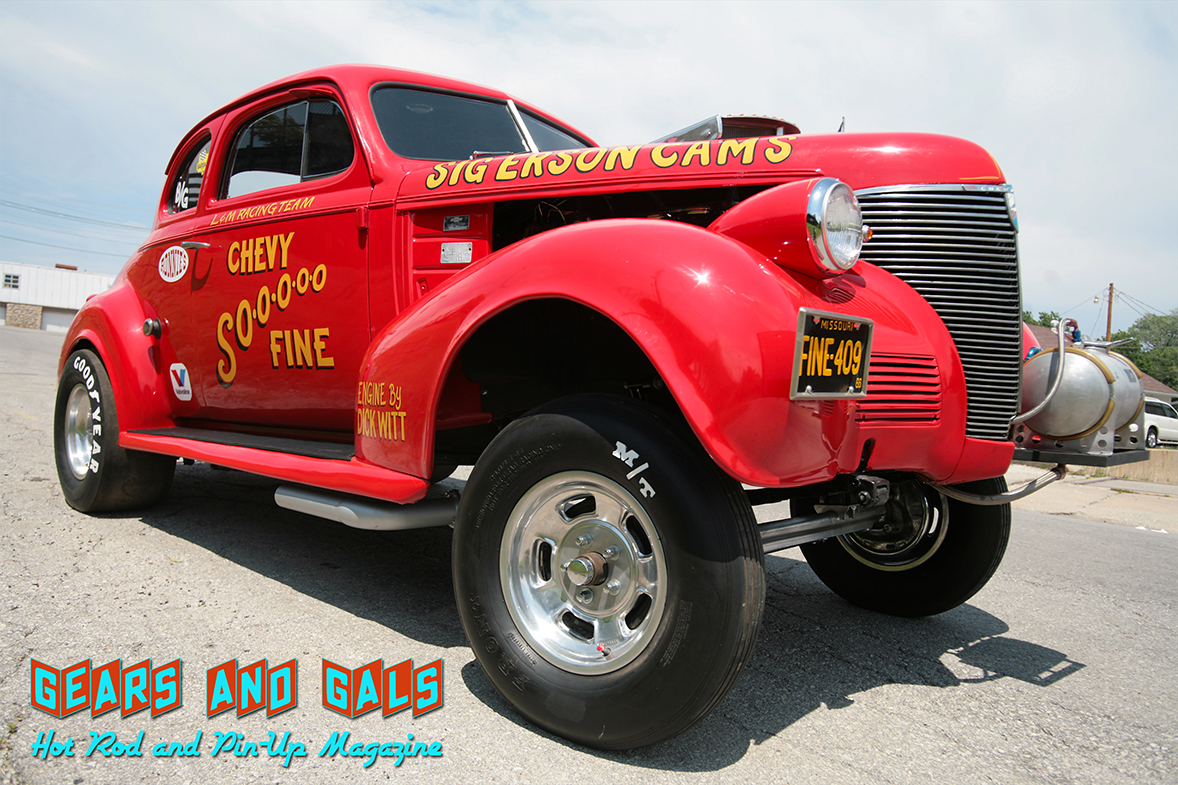 Fast forward a few decades and in 2003, Gary and a bunch of gearhead friends put together a reunion for the KCTA (Kansas City Timing Association). It was a great success and they continued to get together until about 2009. As luck would have it, in 2004 Gary was approached by a young man with a box full of old drag race photos. He wanted to know if Gary would like to see them. Anxiously he went through the treasure of photos before him, smiling and recognizing so many old cars and racers, when he suddenly held up a photo and froze. It was a picture taken at the Manhattan Kansas Drag Strip, dated November 1968. It was "Chevy So-o-o-o-o Fine"! It was the Holy Grail to resurrecting his childhood dream! He got permission to scan the photo and the hunt for a '39 Chevy was on!
Once an all steel car was found, Gary and his buddies Lester Pyle and Monte Cotten went right to work with the project. They filled the fender seams and installed an SAE (Specialty Automotive Equipment) front straight axle. Opting for the cars 409 years of racing but still wanting it to be "kinda" street worthy, he bored the new 409 .030 and went with an Isky 505. Massaging some skillful refinement on the heads, he then mounted twin Carter AFB's on Drake Drag Stacks. But the crown jewel is the Holman Moody Air Scoop! Power is sent thru a Hydramatic transmission to the Oldsmobile rear end waiting to plant the slicks, while vintage Stuart Warner Gauges tell the story.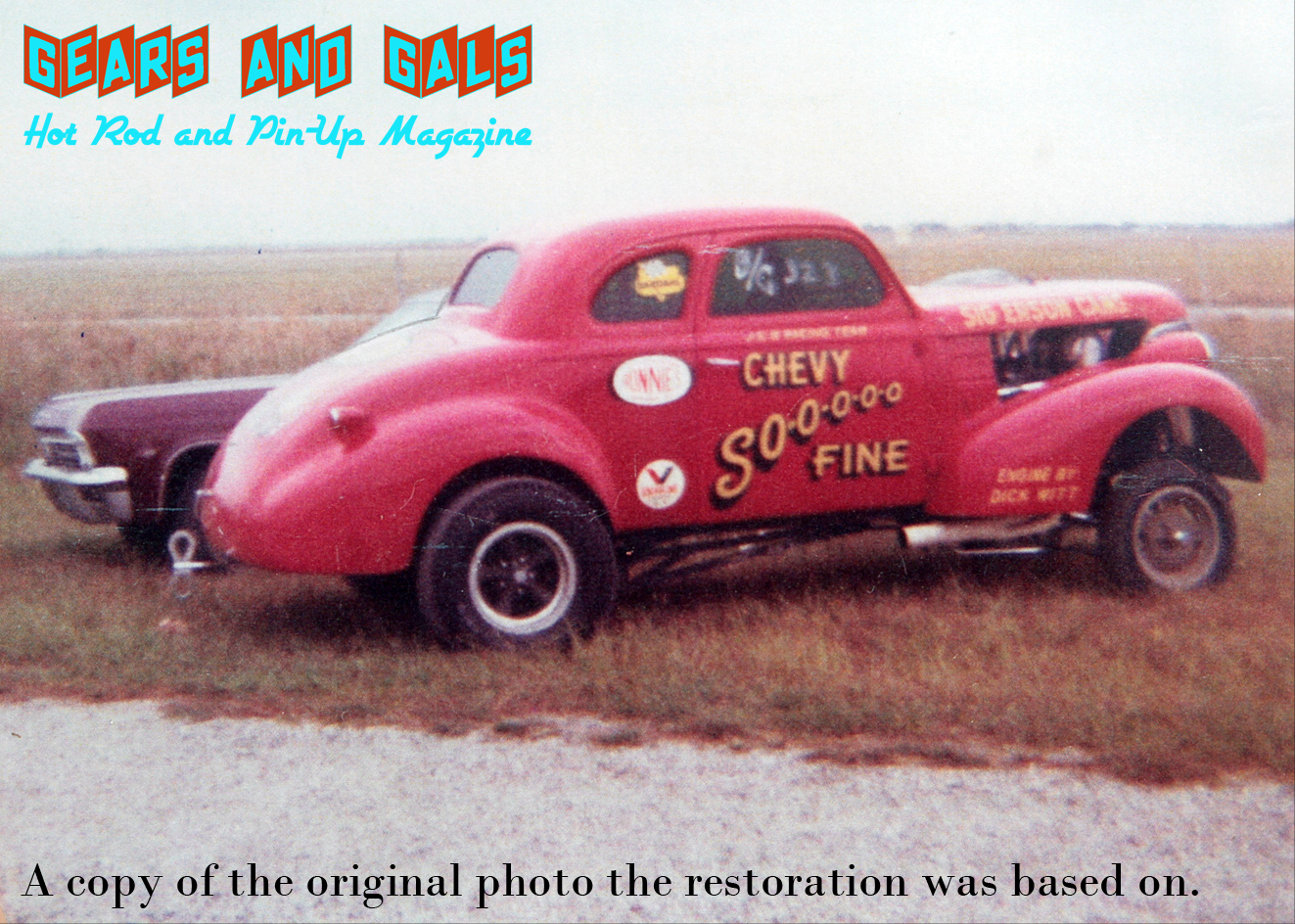 Mike Pierce did a superb job bringing back the exact vintage signage of the original, paying homage to not only Bob Worley, but Dick Witt, Ronnie's Speed & Custom and all of the old L&M Racing Team of decades ago. Two years ago Bob Worley's son saw the car at a show and immediately called his father. "Dad, your car's here. Get down here." Bob couldn't believe what he saw when he got there. No, it wasn't his…but according to Bob, it could have been.
Who knew that a bumper stand in 1959, at a now long gone drag strip would have such an impact on an eight year old boy watching that day? Over four decades later that boy kept his word to himself. "I'm gonna have that car."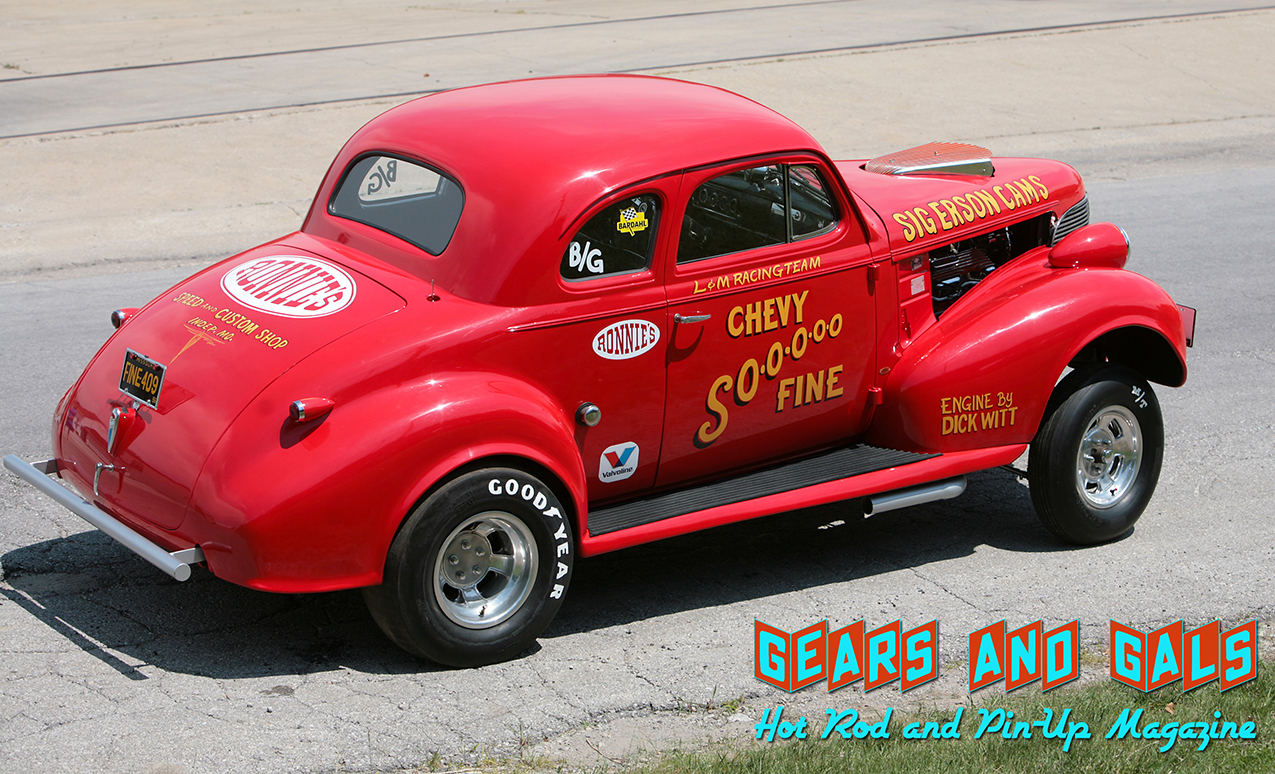 ---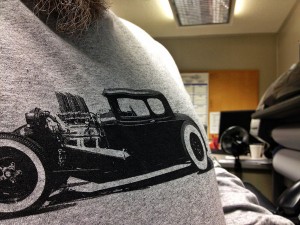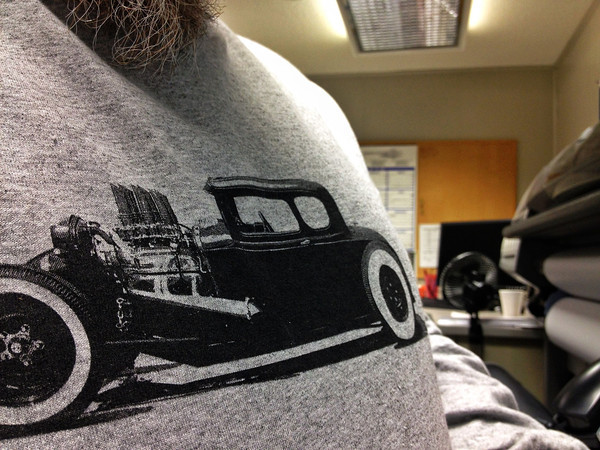 Buy one of these shirts or mugs and help Chrome Pipes & Pinstripes advertise online and pay for hosting fees.
---
If you'd like to help sponsor Royboy Productions and provide the koolest car show coverage to folks worldwide, click here to ask me about it.