Part 1 | Part 2 | Part 3 | Part 4
I've heard it for at least 5 years, "The Des Moines Goodguys is the best GG show that there is, you HAVE to go!" Finally I did. Let's face it, the GG shows held at racetracks all kind of run into each other. The ones at the Kansas Motor Speedway (2012 coverage here, the show has been killed so that's the latest coverage) and the ones I've attended at the Texas Motor Speedway (2014 coverage here) really are all the same in my memories. Lots of cars, lots of people, but no real atmosphere. So you get to drive your car around the track, okay that part is cool, but other than that the cars are basically just parked as if they are in a parking lot. As a spectator and especially as a photographer, that's boring.
So this year it was time to finally make the trip up to Des Moines to see if this party still is the best GG party around. Of course due to some poor planning on my part the 6 hour trip northeast started with a 90 minute drive south. It's a long story, but the short version is we had a long day. First we headed south to Park City, KS to see a small show there, one that we never even got into because traffic was backed up and we didn't feel like making the day even longer by waiting in line to get in. Along the way we saw a Historical Marker that I've driven by for decades and never stopped to look at. It marks the crossing of the Chisholm and Santa Fe Trails. Near here there are a couple of areas where you can still faintly make out where the Santa Fe Trail went thanks to an indention in the ground from the wagon wheels. From there we went east to pick up some newly silk screened coozies from B. Scott Studios and hopped on I-35 towards Des Moines. We pulled onto the turnpike and set the cruise.
After some sight seeing stops at the birthplace of Jesse James outside of Kearney, MO, an Amish "Welcome To Iowa" store just across the border we saw the sign for the Covered Bridges of Madison County. Yup the ones from the movie. I've never seen the movie, but it seemed a worthy departure from the interstate. Just off of I-35 is St. Charles, IA and one of the bridges. We stopped, read the signs, took a couple of photos and got word that some friends were going to meet for dinner at the Iowa Beef Steakhouse. It had already been suggested that we head there so we changed the GPS destination and got our taste buds ready.
The company was fantastic, the car crowd was filling the joint and the steak was phenomenal. It was pricey for our budget but not overpriced for the experience. With nothing really planned for the evening we settled into our hotel room and tried to catch some shut eye for Saturday. We were warned that at noon on Friday the window placards were already numbering at over 3200 (I'm not sure if they start at 1 and are sequential or not), so we needed to get there early to see all of the rides. Too bad for us a state sized thunderstorm moved into Des Moines before sunup and didn't clear out until about 10am.
Finally we were in the Iowa State Fairgrounds. Let me tell you, that is one nice fairgrounds. Beautiful facility and it was filling fast with hot rods, kustoms, auto cross entrants, muscle cars, and just about anything else you can think of. The rain finally quit, and the cars just kept rolling in. We soon met up with my friend, artist Todd Jones (see his artist profile here, and hear the episode of my podcast where I interviewed him here) and he hung with us the whole time we were in town.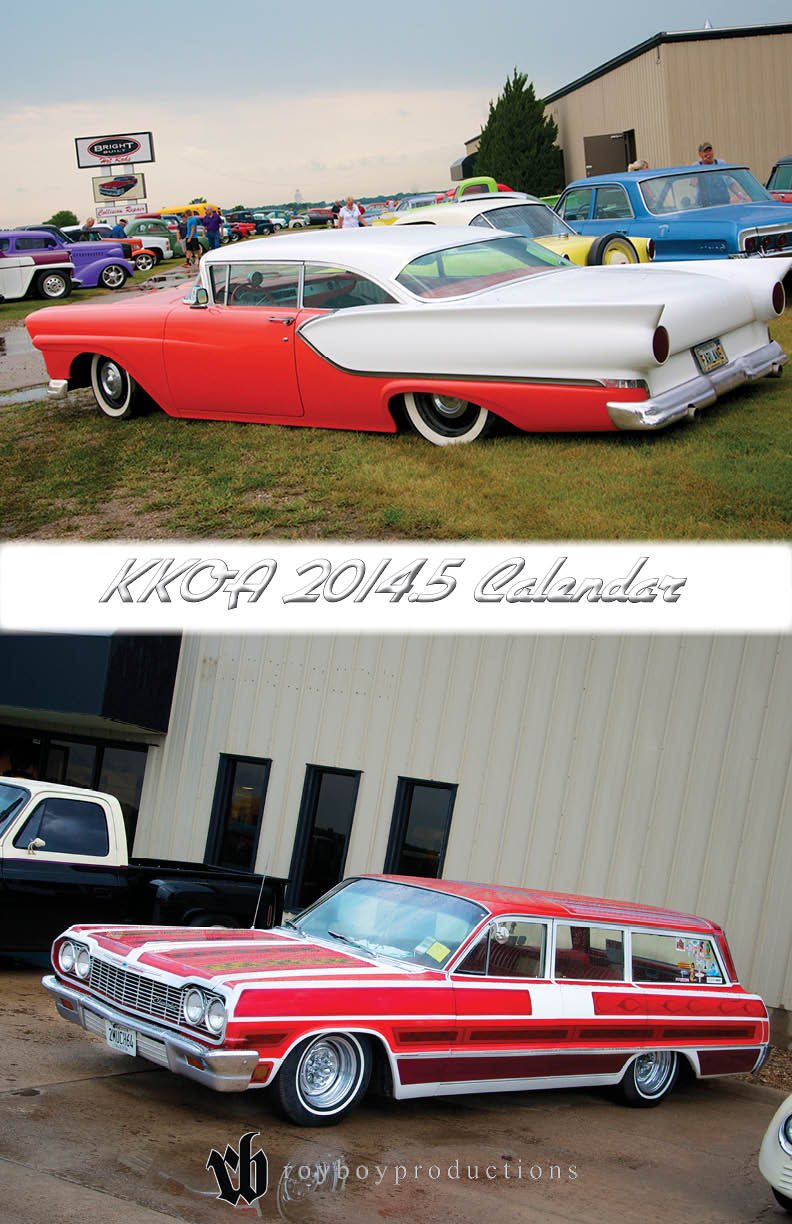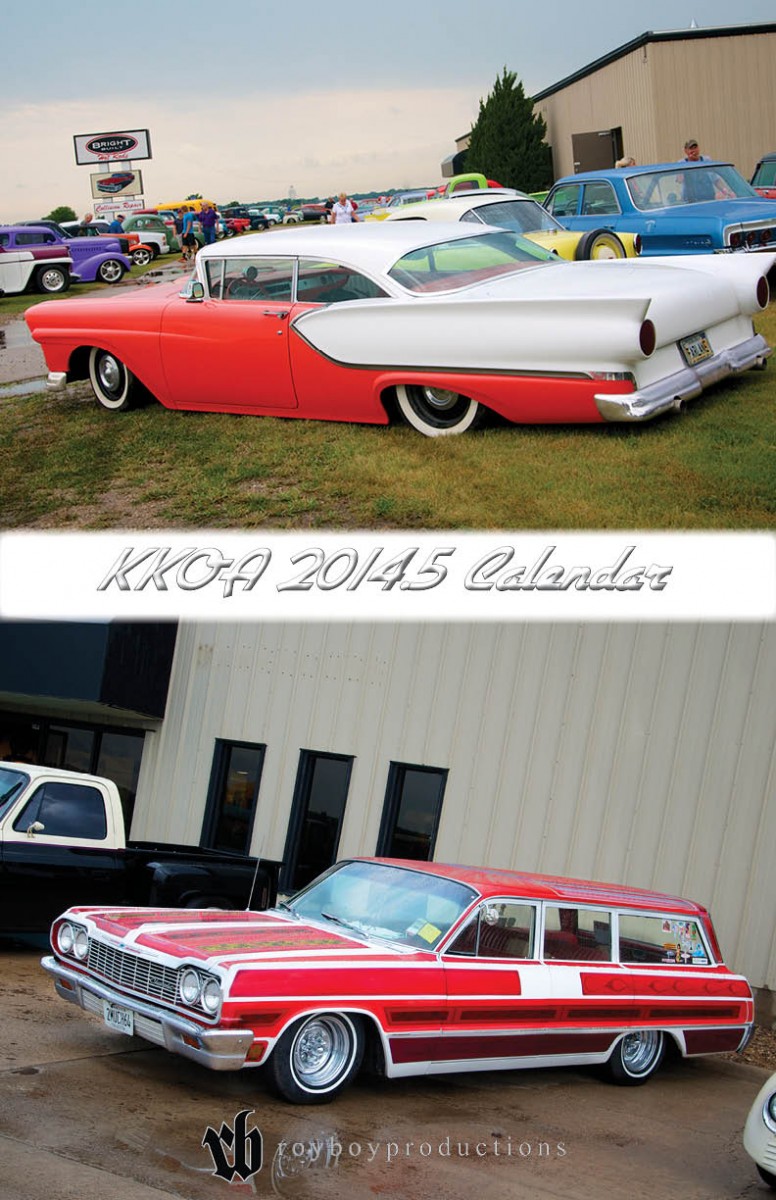 More photos coming tomorrow!
Part 1 | Part 2 | Part 3 | Part 4
Get the 2014.5 KKOA Calendar now!
See you at a show,
Royboy
IF you like this post, share it with your car friends using the social media sharing buttons below or just by sending them the link to this page. Every set of eyeballs on the site helps! Or just hit the Store page and buy something or make a donation!
---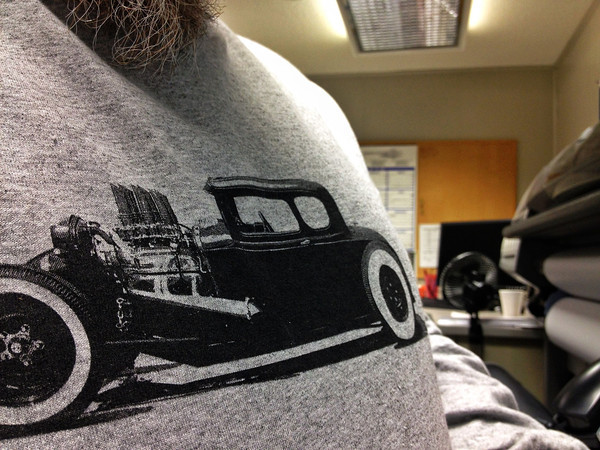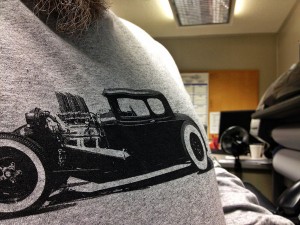 ---
If you'd like to help sponsor Royboy Productions and provide the koolest car show coverage to folks worldwide, click here to ask me about it.