A few weeks ago I had Roger and Will from the Hot Rod Showdown on my podcast talking about their 2nd Annual event that happened this year on February 29th at 7A Ranch in Wimberley, TX. At that time I was really looking forward to returning to the show, I had no idea how much fun I was going to have.
Thursday the 27th I left my day job at Affordable Street Rods in Peabody, KS and headed south. After a 30 minute delay on the interstate a little after 11pm I finally got to my hotel in Alvarado, TX around 1 am.
Early the next morning I decided that I'd take the scenic route to Wimberley. What a great idea! A week before I'd been on I-35 on the way to San Antonio for a Vintage Air conference and I was stuck in road construction traffic one way and traffic due to a wreck coming back, the two-lane route seemed a much better option.
An extra 30 or 40 minutes of driving was well worth it as I cruised the scenic back roads. Arriving around noon on Friday I was quickly greeted by friends from Colorado and Utah, followed soon by some from Kansas and Texas.
We were ready to head out on the Friday cruise through the Hill Country when I was offered the chance to drive Miss Scarlet, the 1936 Ford owned by Kipp Winnward, who was my Utah representative on my 48 Cars 48 States trip! After a bit of reluctance on my part, I quickly came to my senses!
---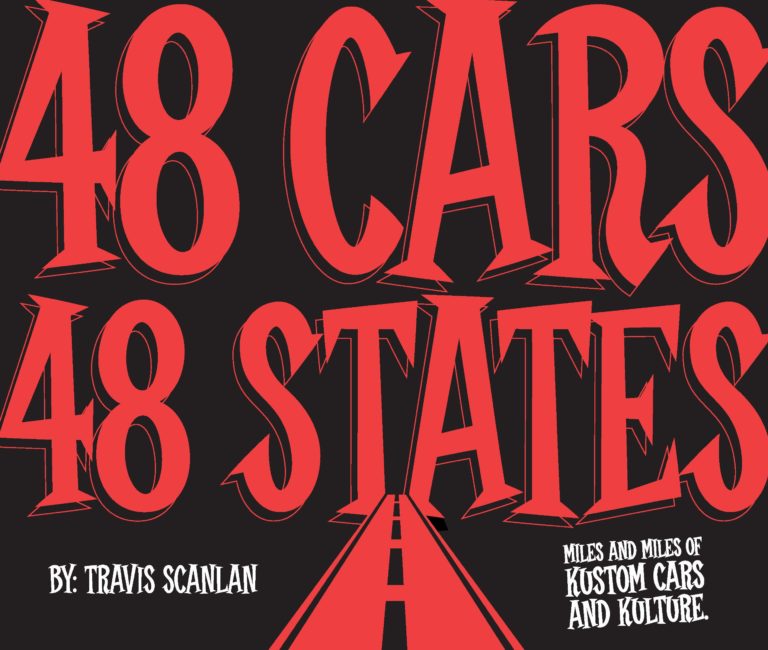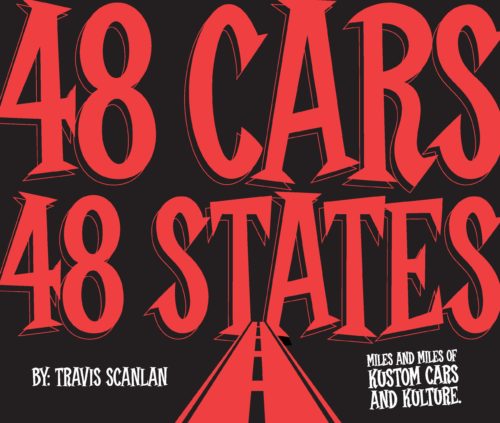 Order the 48 Cars 48 States book here:
It's only $86.50 shipped anywhere in the USA
---
So there I am, my hands on the wheel of one of my favorite 36 Fords on the planet. Could this be real? Was I about to wake up and still be in the hotel from the night before? Yup, it was real, and I was indeed about to drive this amazing machine. It's good to be me.
The Friday cruise was about 60 miles long and headed west from Wimberley then south, looping back to the east and then back up into Wimberley ending back at the 7A Ranch.
About 15 miles into the trip is a T intersection. I waited my turn as the hot rods in front of me turned left one by one at the stop sign. Then… it happened. I slid the top loader into gear and let out the clutch and… I stalled her. Right in front of every one I stalled Miss Scarlet. LAME. I re-started the engine as my face turned a shade of red that matched Scarlet's deep Burgundy paint. I let the clutch out slowly again and then I realized… I have no throttle.
I motion for the cars behind me to go around as Kipp comes up to my side. Explaining to him that the gas pedal had laid over to the left, he directed traffic around me as I let the car roll downhill and off to the side of the road. This was something that Kipp was somewhat prepared for, since it had happened 4 years ago and he'd fixed the pushrod that went from the gas pedal through the firewall to the throttle linkage. He dug into his tools and parts and found a throttle link meant to go between two carbs and started jacking up the car.
It quickly turned into more of a project than we wanted it to be, at about the time that Dan and Brooke Dolan came back. Since we needed a hand on the front side of the firewall and one inside and since the jack wasn't tall enough for a man of my stature to get under the car, Brooke gladly volunteered. So there I was, Kipp tending to his car that I broke, his wife watching from her lawn chair, Dan taking my picture and making fun of me while Brooke slid under the car and proceeded to get filthy while helping get the link attached.
Scott McCann and Chris Russman soon arrived and soon after a TX State Trooper showed up and loaned us a second jack. We all stood around and watched them work, helpless except for Dan who continued to find funny ways to remind me that "This is why we can't have nice things."
Finally, Kipp emerged with a smile on his face from a final check under the car. Brooke was filthy and ruining her white t-shirt, Kipp was bleeding from the sharp rocks his head was resting on when he was under the car. The car was lowered to the ground and the tools were picked up. We re-loaded the car and then we were finally off again!
About 2 miles later… the link we installed showed that it was meant to be pulled, not pushed. When I hit a huge dip in the road my foot bounce and when it came back down on the link end… it bent over and my foot went to the floor and the car slowed to the side of the road.
This time Kipp and Scott were able to get the link scabbed back together and Kipp took the wheel and drove me back to Wimberley. So I sat there in the passenger seat, half elated to be riding in Scarlet, half dejected at losing my privileges behind the wheel. We made it back to the 7A Ranch and made plans for dinner that evening.
After dinner Roger, Will and Rudy let a bunch of the cars into the show early, these cars' owners were staying on site so it was going to help make Saturday morning go more smoothly.
Saturday morning started with Dan and I heading to a local TexMex place called Durangos where we picked up 45 breakfast tacos that he'd ordered the day before. We rolled back to the show and watched the rest of the cars slide into the show as we ate tacos and talked about cars, road trips and how I'd broken Miss Scarlet.
The show was great. About 100 cars (maybe more? I didn't get a final count but it felt like more) came into the show. The organizers keep the car count low so that the site is not overly crowded, and I appreciate that when I am shooting photos. This year the spectator count was easily double last year's attendance, I was glad that I shot the show early as there were constantly people every where!
There were cars in attendance from California, Washington, Utah, Colorado, Nebraska, Oklahoma, all corners of Texas and also Louisiana. Two of my 48 Cars 48 States cars were on hand, the second being Jacob Miller's 46 Ford.
Overall I'd have to say I had a great time. Great friends, great cars, great venue and great weather combined for a 2nd amazing Hot Rod Showdown. Thanks to all involved in putting the show together!
Click here to see the full 229 photo gallery.
Buy a print (click on the image for the shopping cart) if you like a photo!
See you at a show,
Royboy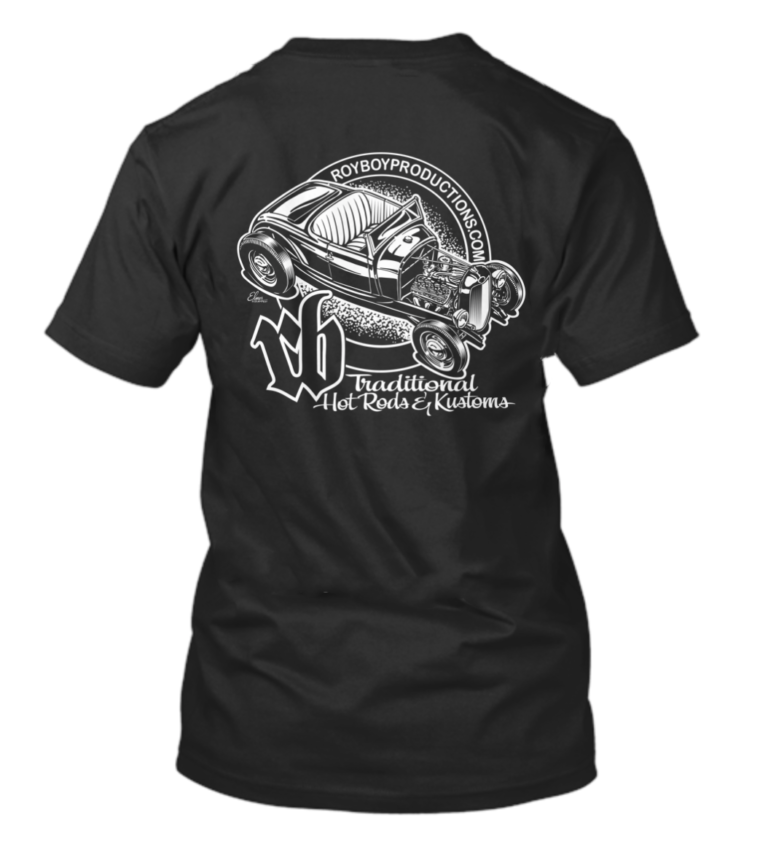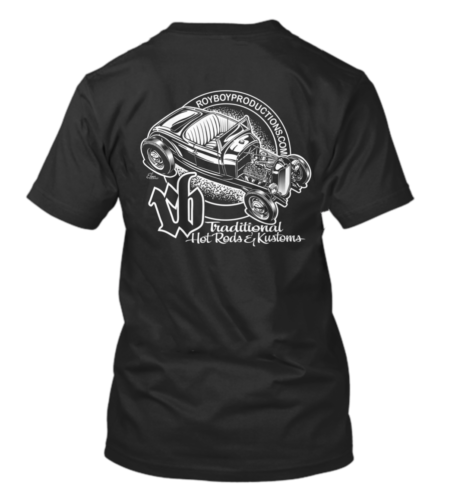 The new Royboy Roadster shirt with artwork by Mike Elmer, Click here to order yours today!
---
Support Royboy Productions!!!
The easiest way (which costs you nothing) is to share this post! IF you like this post, share it with your car friends using the social media sharing buttons below or just by sending them the link to this page. Every set of eyeballs on the site helps!
If you LOVE what I do, go have a look at my Patreon page where you can make sure that I can keep doing this by supporting my site with a small monthly donation.
Thanks!