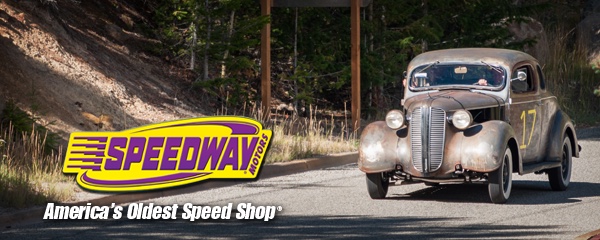 This post of the GNRS Coverage is brought to you by Speedway Motors. Thank you Speedway for making this coverage possible. Visit the the Speedway Motors site here, on Facebook here or on Twitter here.
Finally! Finally, I got to attend the Grand National Roadster Show! The 67th Annual GNRS went down at the Pomona Fairplex in Pomona, CA January 29-31, 2016. We started the day by entering the show through the NHRA museum on the Fairgrounds, and what a way to start the event! So much amazing history in one building, and all of it just whets your appetite for what's about to come for the rest of the weekend.
Part 1 | Part 2 | Part 3 | Part 4 | Part 5 | Part 6 | Part 7
Then it was time to enter the show! We stopped at the Galpin Auto display before heading into our first bu
Then we spotted the car from Deuce of Spades and Faith Granger's booth. 
Then it was time to start working our way through the ginormous show! Starting with the building that housed the contenders for the America's Most Beautiful Roadster Award.
Part 1 | Part 2 | Part 3 | Part 4 | Part 5 | Part 6 | Part 7
Buy a print (click on the image for the shopping cart) if you like a photo!
See you at a show,
Royboy
---
Support Royboy Productions!!!
The easiest way (which costs you nothing) is to share this post!  IF you like this post, share it with your car friends using the social media sharing buttons below or just by sending them the link to this page.  Every set of eyeballs on the site helps!
Or if there's something you need to buy from Amazon
, click here to go there. Drag that link to your menu bar for quick and easy access. It costs you nothing extra and Royboy earns a small commission.
Don't forget the Royboy Merch!!!! I have keychains, coozies, stickers & hats for sale. Every piece you buy gets me further down the road to bring more show coverage and podcasts to you.
All Royboy photos on this site are available as prints up to poster sizes. Buying them not only makes your walls cooler it puts gas in the tank to get me to another car show or feature shoot. Please consider buying a print, if you can't do that, I understand. Or just hit the Store page and buy something or make a donation!
---
[jetpack_subscription_form]
---