After a bit of a break due to some technical issues on his website, it's back up and Jonnie King is back on Royboy Productions! Glad to have you back Jonnie!!!
———————————————————————————————
Hi everybody !   Hope you've been enjoying all of Travis' cool pix that he's been posting lately…his work is amazing !
Now, here's some "instant 2014 Autorama info" for you:
EVERY YEAR AT THE DETROIT AUTORAMA, CHUCK MILLER puts together the CAVALCADE OF CUSTOMS Display, as well as a Special Feature Section which contains  TEN models of a certain type or style.   And, every year he sits down with me to give me the scoop on the coming year's exhibit's.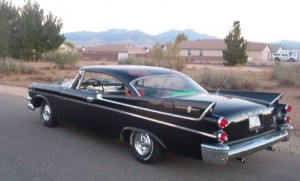 ACCORDINGLY, in a special late-nite session at Darryl Starbird's 50th Anniversary Tulsa Rod & Custom Show, Chuck gave me the inside info on the 2014 Autorama at Cobo: FINTASTIC FINS…those cool 50's & 60's cars that could almost fly with those fendered-fins…like my personal Dodge D-500 shown here !!
THIS IS ONE YOU DON'T  WANNA MISS !  Just Click-On-Right-Here …listen, have fun, and send this Link to a friend so they won't miss it !
Jonnie   www.legends.thewwbc.net
———————————————————————————————
February Subscriber Giveaway!
If you want to this blog in your email inbox each time the blog goes live, go on up to the top right hand corner of the website and enter your email address. The last day of each month I randomly pick 1 subscriber to win a prize package. This month's prize is a pinstriped piece from Pinstriping By Lizzie, a Royboy Knit Winter Hat & a shirt from Hot Rod Hill Climb!
———————————————————————————————
$1000 Up For Grabs! Click the link for more info!
———————————————————————————————
Thank you to the first 2 sponsors of my site, quite frankly the only 2 that I've asked to sponsor the site so far. If you'd like to help sponsor Royboy Productions and provide the koolest car show coverage to folks worldwide, click here to ask me about it.