1. Do you remember an "ah-ha" moment that made you know that art was going to be an integral part of your life?
I was always into art and did some drawing in school, but kind of got away from it as I got older. I remember thinking tattoos were the coolest thing in the world. Then I started going to car shows. I was amazed by the pinstriping and kandy paint. I never thought I would end up doing it for a living. About 9 years ago I ordered my first pinstripe brush and 1/4 pint of 1shot. The first time I pulled lines I was hooked. I thought "Damn, I can do this." Of course looking back on it now, I know my first attempt was a total disaster, but I stuck with it and realized I could not be without art in my life.

2. If you could pick 1 piece of your work that would represent the entire body of your work, which one would you choose?
This question is tough because I am actually working on it now as I type this. It is a 12×24 board all in heavy silver flake and the plan it to do kandy patterns, pinstriping and one of my flyin eye cut outs mounted to that. The plan is to have it done for Lone Star Round Up. It will pretty much have just about everything I have figured out in it minus leafing unless I can figure out a way to work that in too.

3. Who or what most inspires your work?
Lots of people inspire me. I look at Doug Dorr's work and talk to him a lot. He was my mentor and taught me a lot. I owe everything to that dude! Also, the work of Hot Dog, Von Francho, Skratch. Those dudes kill it and amaze me with their clean line work. I draw inspiration from lots of other places, too. I look at a clean car and instantly start striping it in my head. Anything with nice curves really. Old Signs, low riders, hand lettered drag cars. Hell, even stain glass windows in churches. Just about anything can be art and inspiration if you look close enough at it.

4. Is there an artistic style or process that you haven't tried yet that you want to try?
Some day I would like to try my hand at sculpting. I have never done that, but that is way down the road. I still have lots of things to master that I am already working with first haha

5. What's 1 piece of advice you'd give an artist that's just starting out today?
Be ready to work, nothing is given to you out there. Talk to the guys that have been around. Learn all you can and listen. You never know everything, and if you ever think you do then it is time to stop.

How do people get ahold of you?
Twitter: timebombkustoms
Facebook: timebomb138
Instagram: jsin1977
Website: www.timebombkustoms.net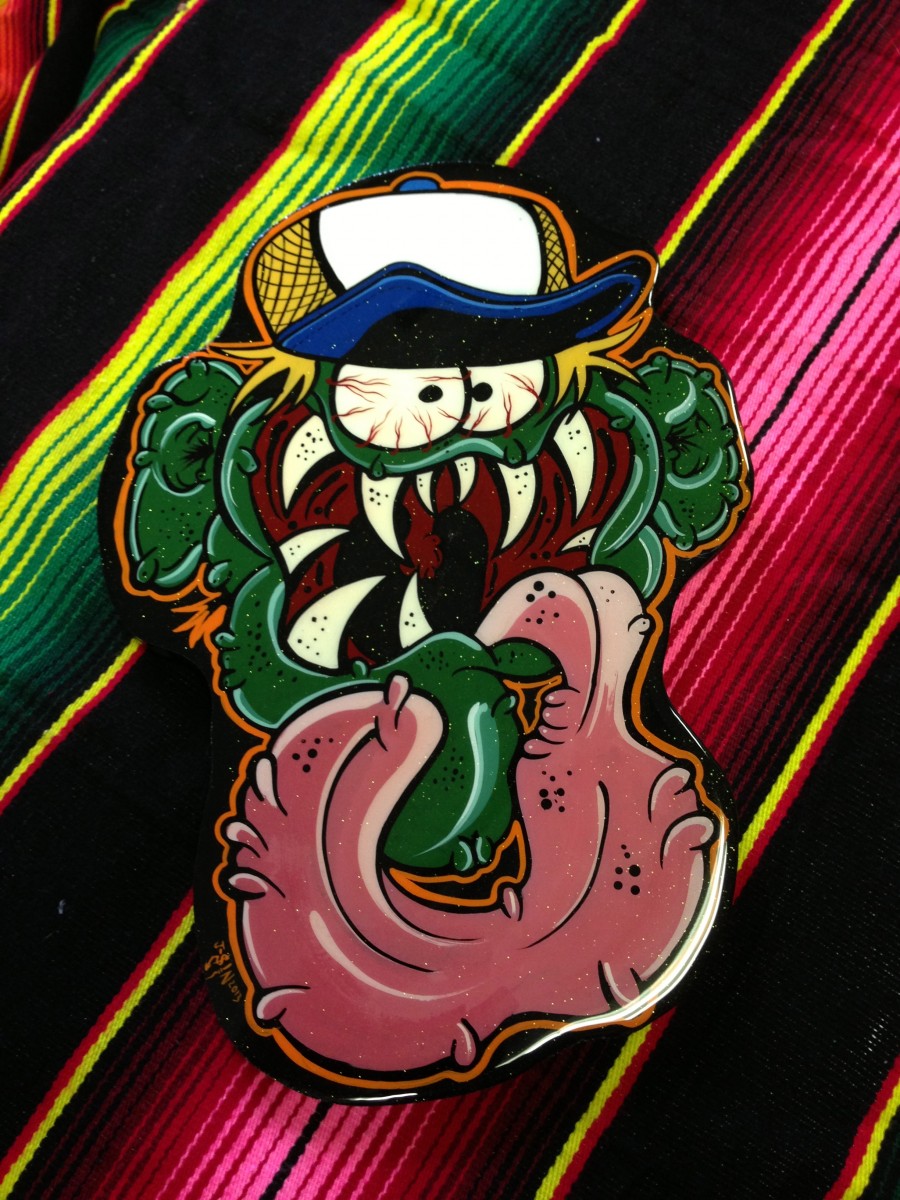 See you at a show,
Royboy
---
Support Royboy Productions!!!
The easiest way (which costs you nothing) is to share this post!  IF you like this post, share it with your car friends using the social media sharing buttons below or just by sending them the link to this page.  Every set of eyeballs on the site helps!
Or if there's something you need to buy from Amazon
, click here to go there. Drag that link to your menu bar for quick and easy access. It costs you nothing extra and Royboy earns a small commission.
Don't forget the Royboy Merch!!!! I have keychains, coozies, stickers & hats for sale. Every piece you buy gets me further down the road to bring more show coverage and podcasts to you.
All Royboy photos on this site are available as prints up to poster sizes. Buying them not only makes your walls cooler it puts gas in the tank to get me to another car show or feature shoot. Please consider buying a print, if you can't do that, I understand. Or just hit the Store page and buy something or make a donation!
---
[jetpack_subscription_form]