Well, that didn't go quite as planned, but I made it to South Dakota late Sunday night. I left the Starliner show and headed north, my route took me within 12 miles of my own home so I stopped again and used my wifi and slept in my own bed, planning to take off at 5:30 am to arrive in Rapid City, SD by 2:30 pm Mountain time. First, I awoke to the shrill alarm at 5am and quickly decided that 6:30 would be a better starting time… then it was 7:30… by 8am I was finally rolling out of Gypsum, KS.
I headed up U.S. 81, since my route took me through Concordia, KS I stopped in to see my friend Dalton for a little bit. As I left Concordia the car died on me, weird. I started it back up and kept going, figuring it was nothing. I made it about 30 miles north and saw a big thunderstorm sitting on top of US 81 a couple of miles ahead. A quick decision took me west on US 36. 30 or so miles later I drove through the small town of Mankato, KS, the home of City Limits Hot Rods owned by my friend PJ Garst. I figured it was Sunday morning and I'd already stopped once, I better keep rolling down the road instead of calling him to say hi.
3 miles later the car dies again. Dammit. This isn't good. I was on the side of the road for just a couple of minutes and I could tell that something was wrong. The car would try to start but would backfire through the exhaust, it has never done that before. That lead me to believe something in the distributor was not right. About that time a black Chevy truck shows up, rolling by slowly… driven by PJ!
He and his brother Travis pulled me back to Mankato and hooked me up with a mechanic by the name of Matt Pierce. Over the next 5 hours he worked the car, first testing to make sure the fuel pump was delivering fuel, then checked the spark, both seemed good. Then when the cap was pulled off of the distributor the problem was found. The rotor was beat up, the cap was beat up on the inside, and the top of the distributor shaft was very loose. Uh oh.
PJ called a local guy that has some FE motors in old vehicles, and a short time later he came back with a distributor out of 390. A call to the owner of the local parts store (which was closed) and then we had a new rotor & cap. After trying the new distributor, the car was missing horribly, so some inspection found that the breaker plate in the "new" distributor was wobbly. So both distributors were disassembled, and one good unit with my Pertronix bug in it was put together. That was the ticket! The car was back on the road again!
---
Order the 48 Cars 48 States book here:
It's only $86.50 shipped anywhere in the USA
---
A few miles down the road from Mankato, KS is Lebanon, KS and just a couple of miles from there is the Geographic Center of the Continental USA, I had to stop for a quick photo op.
Then I was off again, it was a long drive, fighting a terrible cross wind and I got to SD late enough that I didn't get to go to Mount Rushmore or explore any of the Black Hills, it was after 10pm Mountain when I finally arrived.
Sunday's map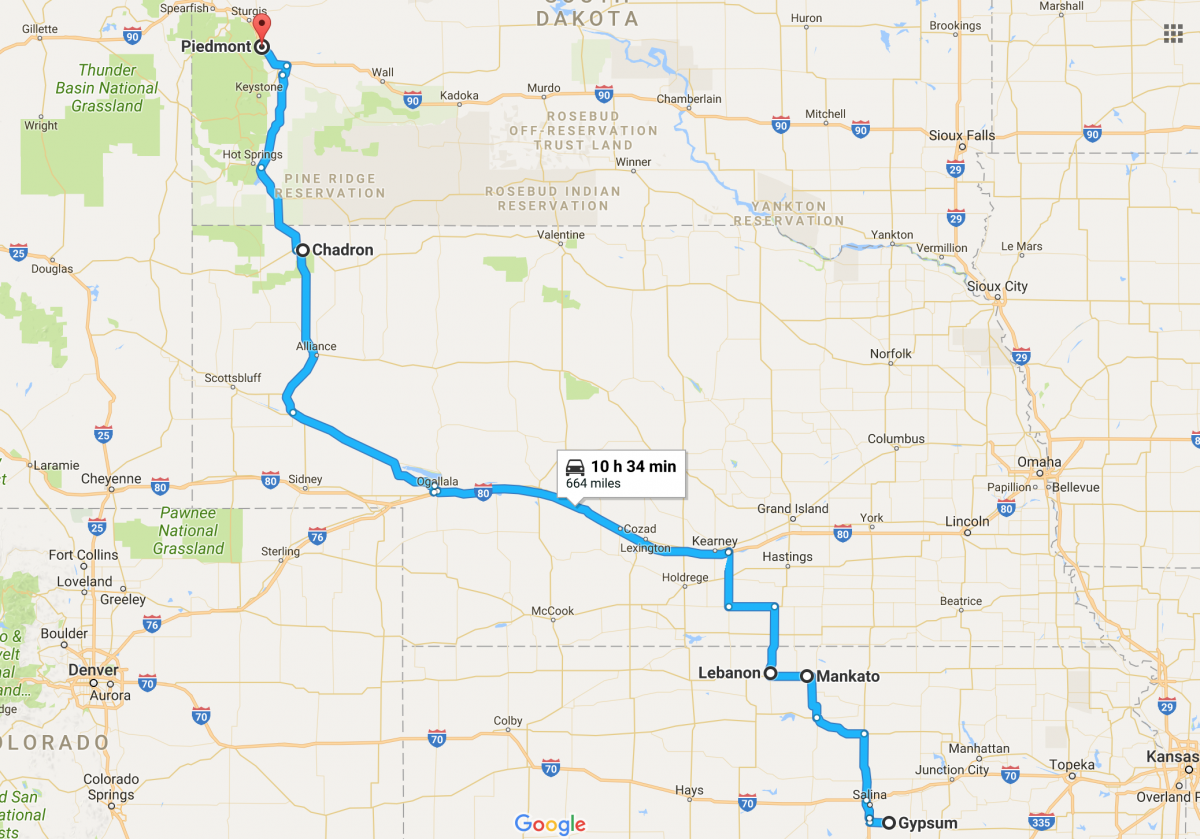 My SD car is owned by Thom Van Pelt, a great guy with Kansas roots! In fact he grew up with a bunch of the car guys that I know now in Wichita and the surrounding areas. I met Thom and his son Tim at Lucky Burton's shop party before the Grand National Roadster Show this year, they had this car in the Suede Palace and took home the Hop Up Award from the event. The Van Pelts are great folks and have a kool 28 Roadster that I hope to see again and shoot again for a possible magazine feature!
More photos of the car and story on it in the 48 Cars 48 States Book when it comes out or listen to episode 171 of Chrome Pipes And Pinstripes to hear Thom and Tim tell some about it in audio form.
After we shot some photos and recorded the audio we took a little tour of the Black Hills. I'll share a bit of that tomorrow.
Buy a print (click on the image for the shopping cart) if you like a photo!
See you at a show,
Royboy
---
Support Royboy Productions!!!
The easiest way (which costs you nothing) is to share this post!  IF you like this post, share it with your car friends using the social media sharing buttons below or just by sending them the link to this page.  Every set of eyeballs on the site helps!
Thanks!