"Hi to all joining us at Travis's great site ! Hope your Cruisin' is going well this year…still lots to do !
This is a truly GREAT Interview you'll love from Keith Dean…his info & story from his earliest days, plus working with his Dad: Dick Dean.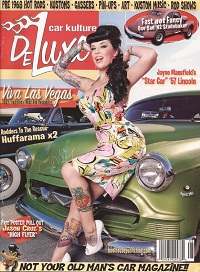 HE GREW UP WORKING BESIDE HIS DAD, DICK DEAN, but KEITH "KID" DEAN has come into his own, is a Hall Of Famer, and has created some of the most beautiful customs you've ever seen in the last few years.
In this late-night Interview that Keith & I did at the KKOA 31st Annual Lead Sled in Salina, he talked about his early years, his Dad, and, some of his favorite cars.
Keith Dean is an amazing crafstman, was Inducted into the KKOA Hall Of Fame, in 2013, tells cool stories, and so this is one Interview ya gotta hear !   SO, simply Click-On Right Here , listen, and, enjoy !
My best to all, and thanks for joining us !
Jonnie