This year while attending the Hot Rod Dirt Drags I was talking with some of the Throttlers CC from Salt Lake City about their plans for Independence Day weekend. It turns out that Throttlers Woody's family has a super cool resort called Flaming Gorge Resort in Dutch John, UT and the Throttlers couldn't say enough good things about the Independence Day weekend festivities there.
---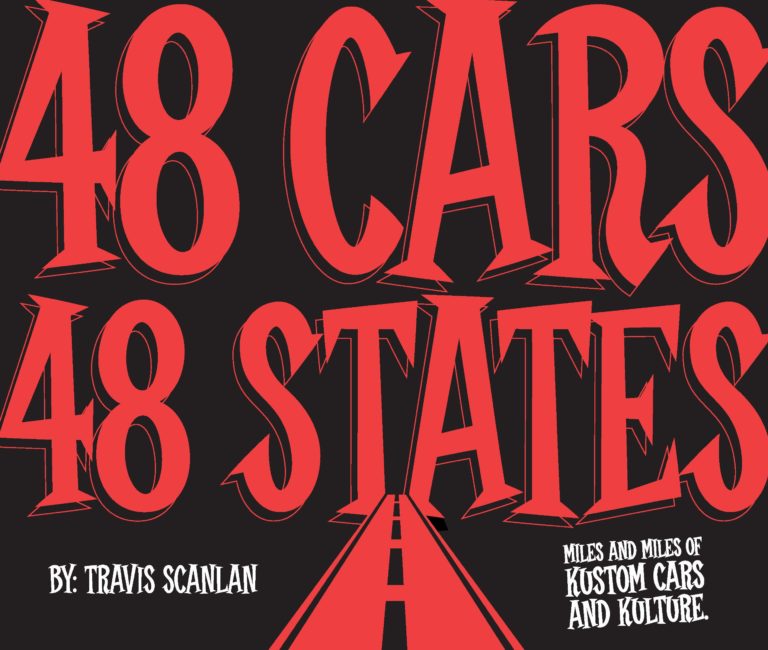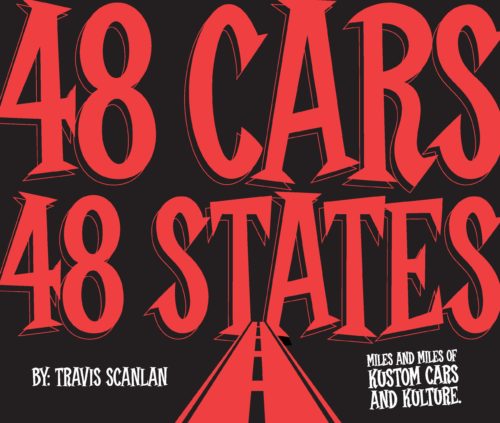 Order the 48 Cars 48 States book here:
It's only $86.50 shipped anywhere in the USA
---
So I made plans to attend too! Originally I was going to use the Galaxie to pull the camper out and camp for the weekend, but a couple of weeks before the event I got a message from Mike Nicholas of the Hot Rod Dirt Drags and the Hot Rod Hill Climb saying that they had an extra bedroom in the spot that they reserved for the week and I was welcome to it. So okay, I'll leave the camper at home yet again and save a couple hundred dollars in fuel by not pulling it. Two days before I was scheduled to leave I was fixing a pesky check engine light on the daily driver and noticed that the tires that I'd hoped would last one more month were not gonna make it. $700 later the tires were replaced and my Galaxie gas money was gone. Change of plans again, drive the daily.
From my place to Flaming Gorge Resort is just over 800 miles and over 12 hours of driving time so I broke the trip west up into two segments. After finishing some stops for work I headed for Colorado and got to Dillon, CO around 11 pm. A few hours of rest later and I was heading north to catch up with US40 and head west towards UT. I arrived around noon, just in time to have a burger with some of the Elmer family and talk a bit before about 60 of us loaded up and headed about 1800 ft lower to the river for a 7 mile rafting trip.
The rafting trip was awesome and made even more so by having Woody on our raft giving us all sorts of insights to the landscape that we were going through and guiding us through the rapids when we got to them. It was a really relaxing afternoon with only a few spots of whitewater that were easily navigated but added some fun to the trip. A group dinner back at the resort made for the perfect end to the day.
Friday morning we all got up and helped set up tents and tables and such for the car show that would be on Saturday. Later in the day we did a Poker Run through the incredibly beautiful landscape around the area. I was lucky enough to hop in with Ryan Frost in his 1934 Ford roadster with no top, no windshield and 6.40 gears in the quick change. We couldn't go very fast but we could go pretty darn quick! Even when the rain came and went for about 2 hours it still was an amazing experience.
Here's a video of that run.

Friday night was a potluck dinner and hours of eating, drinking, story telling and laughter, it just might have been a perfect day.
Saturday morning the Flaming Gorge Resort welcomed about 150 cars and a TON of spectators for the car show. There were bouncy castles, horseback rides, hay rack rides, a DJ and a bunch of great machines to be seen.
Here's a slideshow of the photos of the event. Click here to see the full gallery. 
Saturday was capped off by a tremendous fireworks display and more hanging out with great people. I can't say enough about how great the entire experience was at Flaming Gorge Resort and I highly recommend that you attend next year!
Buy a print (click on the image for the shopping cart) if you like a photo!
See you at a show,
Royboy
---
Support Royboy Productions!!!
The easiest way (which costs you nothing) is to share this post!  IF you like this post, share it with your car friends using the social media sharing buttons below or just by sending them the link to this page.  Every set of eyeballs on the site helps!
If you LOVE what I do, go have a look at my Patreon page where you can make sure that I can keep doing this by supporting my site with a small monthly donation.
Thanks!